Senior Doe



Lakeshore Call Me Fancy
N2021138
(Click on Registration #)
G6s Normal by Test


Yearling 1st Freshener
Sire: J&M Hideaway Cowboy Cassanova
SS: CH *B Lakeshore Wild West Showdown
SD: SGCH J&M Hideaway Farm Justice 2*M

Dam: SGCH Alize Kairisee 3*M
DS: SG *B Alize Kharm Personified
DD: SGCH Desert Willow KE CK Kailia 2*M

DOB: February 2, 2019


As I predicted last year, Fancy is maturing into a good sized doe. She most certainly has a pretty topline with a beautiful wide level rump. And to sweeten the deal she has a long foreudder blending smoothly with a nicely balanced rear udder having good height and width. As we all know, no doe is perfect with her fault being a little open over her shoulders. And we can add to that just a bit of an attitude.


2020 Show Wins
Yearling 1st Freshener



Quad State Classic, Sioux Center, IA
(Judges: Ashley Scheel, Joseph Larson & Cameron Jodlowski )
1st of 4 in Ring 1
1st of 4 in Ring 2
3rd of 4 in Ring 3



NDGA Show, Weeping Water, NE
(Judges: Mark Baden, Dan Greene, Jennifer Lawrence)
2nd of 4 in Ring 1
2nd of 4 in Ring 2
1st of 4 in Ring 3



Cumulative Show Wins



2019 (Junior Doe) - 2x 1st, 1x 2nd




Breeding/Kidding info


Call Me Fancy's Photos...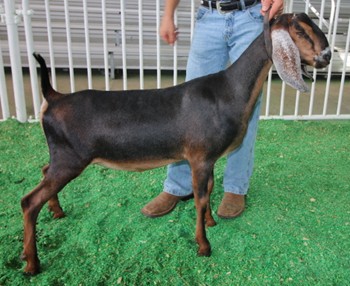 Junior Doe



Dam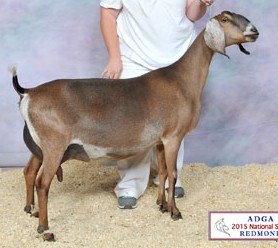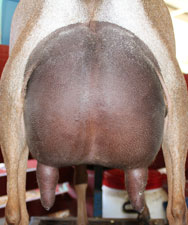 SGCH Alize Kairisee 3*M
5-04 E90 (VVEE)


(photo courtesy of Lakeshore)





Dam's Dam



SGCH Desert Willow KE CK Kailia 2*M
8-07 93EEEE


(photo courtesy of Lakeshore)

Sire's Dam



SGCH J&M Hideaway Farm Justice 2*M


(photo courtesy of J&M Hideaway)