Senior Doe



CH Lakeshore TM Katina
N1785640
(Click on Registration#)
G6s Normal by Test
2-06 E90 (VVEE)



4 Yr. Old 4th Freshener
Sire: Hoanbu LR Take Me To The Moon
SS: Lakeshore No Need To Rush
SD: SGCH Hoanbu Status Misty Moonlight 2*M

Dam: SGCH J&R Spiritís LFS Korrine 3*M
DS: Lakeshore EXC Sieghard
DD: SGCH Desert Willow KE CK Kailia 2*M

DOB: January 24, 2016



We feel so blessed to have Katina in our herd. In the spring of 2019 at around 136 days pregnant she developed ketosis and we were afraid we were going to lose her. With a lot of intense treatment we were able to induce her as soon as we felt it was safe for the kids to have the best chance of survival and she delivered a healthy set of quads. We suspect because of her lying around she developed mastitis so we aggressively treated her and dried her off which meant no shows for her in 2019. Fortunately she just had minor issues this past spring and delivered a set of healthy triplets. My prayers were answered and we were able to take her to her first show in 2020 where she went Senior Champion three times with one Best Of Breed thus assuring her the title of a Permanent Champion. Her sweet disposition makes her one of my favorites in the herd right along with her beautiful topline, sound feet and legs and that beautifully balanced mammary system.


2020 Show Wins
4 yr. old 3rd freshener



Quad State Classic, Sioux Center, IA
(Judges: Ashley Scheel, Joseph Larson, Cameron Jodlowski)
1st of 3 in ring 1, Sr. GCH & Best Of Breed
1st of 3 in ring 2, Sr. GCH
1st of 3 in ring 3, Sr. GCH



NDGA Show, Weeping Water, NE
(Judges: Mark Baden, Dan Greene, Jennifer Lawrence)
1st of 2 in Ring 1 - 1st Udder, Sr. GCH
1st of 2 in Ring 2 - Sr. GCH
1st of 2 in Ring 3



Cumulative Show Wins



2019 (3 yr. old) - Not Shown
2018 (2 yr old) Ė 2x 1st, 2x 2nd, 3x Sr. Res. CH, 1x Sr. GCH & Best Of Breed



Breeding/Kidding info


Katina's Photos...

2 Year Old 2nd Freshener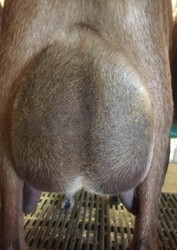 Yearling 1st Freshener



Dam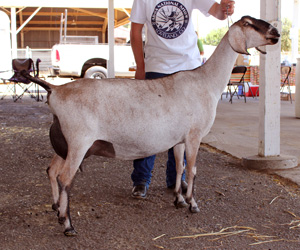 SGCH J&R Spiritís LFS Korrine 3*M
7-05 91(EEEE)


Sires Dam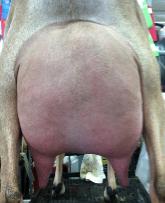 SGCH Hoanbu Status Misty Moonlight 2*M
5-04 92(EEEE)
2013 ADGA Natl. Res. GCH


Dam's Dam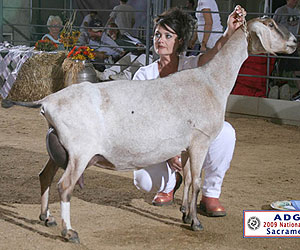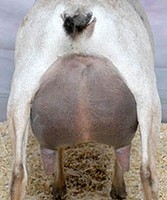 SGCH Desert Willow KE CK Kailia 2*M
8-07 93(EEEE)