Senior Doe



Lakeshore TM Katina
N1785640
(Click on Registration#)
G6s Normal by Test
2-06 E90 (VVEE)



2 Yr. Old 2nd Freshener
Sire: Hoanbu LR Take Me To The Moon
SS: Lakeshore No Need To Rush
SD: SGCH Hoanbu Status Misty Moonlight 2*M

Dam: SGCH J&R Spiritís LFS Korrine 3*M
DS: Lakeshore EXC Sieghard
DD: SGCH Desert Willow KE CK Kailia 2*M

DOB: January 24, 2016



We feel so blest to still have Katina in our herd. Last spring at around 136 days pregnant she developed ketosis. There were two days when I was extremely concerned for her. We gave her CMPK & Dextrose 50% peritoneal twice daily. We induced her as soon as we felt it was safe for the kids to have the best chance at survival and she delivered a set of quads, all of which survived. However, we suspect that because of her lying around a good part of the time she developed mastitis on her one side. Because of that we treated her and dried her up. Hopefully, we can get her back in the show ring next year. Her sweet disposition makes her one of my favorites in the herd as well as being a beautiful doe in general appearance.


2018 Show Wins
2 yr. old 2nd freshener



SMDGA SHOW, SPRINGFIELD, MO
(Judges: Grace Joy & Jake Bradford)
1st of 3 in Ring 1 - Res Sr. CH
1st of 3 in Ring 2 - Sr. GCH & Best Of Breed



QUAD STATE CLASSIC, SIOUX CENTER, IA
(Judge: Tom Cox)
3rd of 9



IOWA STATE FAIR, DES MOINES, IA
(Judge: Julie Mathys)
10th of 17



NEBRASKA STATE FAIR, GRAND ISLAND, NE
(Judge: Jeffrey Klein)
7th of 16



FLAT WATER CLASSIC, MADISON, NE
(Judges: Jay Rudolph & Joseph Larson)
2nd of 4 - Res Sr. CH
2nd of 4 - Res Sr. CH




Breeding/Kidding info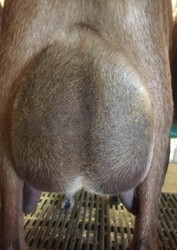 Katina's Yearling 1st Freshener photos...



Dam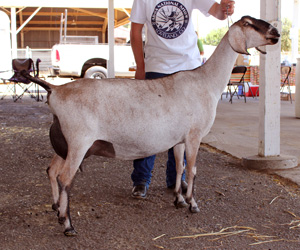 SGCH J&R Spiritís LFS Korrine 3*M
7-05 91(EEEE)


Sires Dam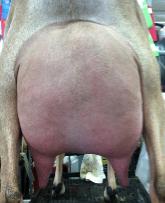 SGCH Hoanbu Status Misty Moonlight 2*M
5-04 92(EEEE)
2013 ADGA Natl. Res. GCH


Dam's Dam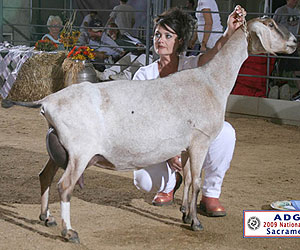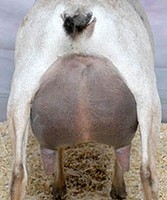 SGCH Desert Willow KE CK Kailia 2*M
8-07 93(EEEE)