Nubilop Acres Katina's Izzie
N2029993
(Click on Registration #)
G6s Normal by Parentage
Izzie is a doe I fell in love with the minute she was born most likely because of her markings. We did not show her in 2020 as we only made three shows with our junior does so we will keep her 2019 show wins up. We were fortunate to be able to get her dam, Katina, back in the show ring this year where she became a permanent champion under the first two judges. Izzie reminds me of her dam with the exception of perhaps not quite as flat a rump as her dam but that escutcheon area of hers looks very promising.


2019 Show Wins
Junior Doe



Iowa State Fair, Des Moines, IA
(Judge: Timothy Flickinger)
4th of 21



Nebraska State Fair, Grand Island, NE
(Judges: Joe Pilotte & Karen Smith)
3rd of 27 in Ring 1
5th of 29 in Ring 2



Flat Water Classic, Madison, NE
(Judges: Julie Matthys & Timothy Flickinger)
3rd of 6 in Ring 1
2nd of 6 in Ring 2



Breeding/Kidding info


Izzie's Photos...



Junior Doe



Dam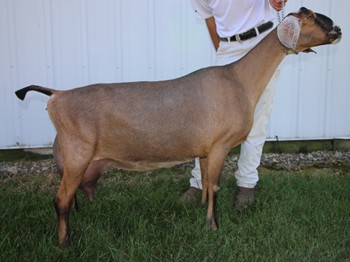 Lakeshore TM Katina
2-06 E90 (VVEE)



Sire's Dam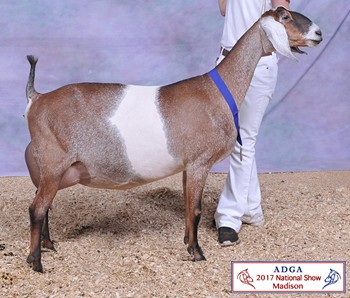 SGCH J & M Hideaway Farm Patriot 2*M
EX91 VEEE
1st Place/1st Udder 2 yr. old 2016 ADGA Nationals
1st Place/1st Udder 3 yr. old & Res GCH/Res Best Udder 2017 ADGA Nationals
2nd Place/2nd Udder 4 yr. old 2018 ADGA Nationals
Elite Doe List 2017 & 2018


Sire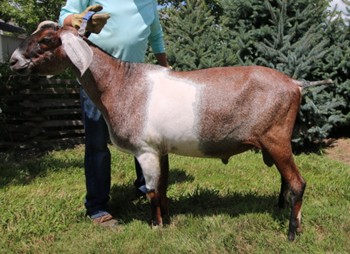 *B J&M Hideaway AB American Hero


1-02 V88 (VEE)