Senior Doe



Lakeshore Isn't She Lovely
N1860279
(Click on Registration#)
G6s Normal by Test
2-03 V88 (+EEE)
1-04 +84(+VVV)


2 Year Old 2nd Freshener...

Sire: *B Mountain Muse Stat Vindicator
SS: SGCH ++*B Lakeshore Farms Star Status
SD: SGCH Mountain Muse Playboy's Vixen 2*M

Dam: GCH Lakeshore Playboy Scandal 7*M
DS: SGCH +*B J&R Spirits Dakota Playboy
DD: GCH Lakeshore EX Summer Sensation 6*M

DOB: March 12, 2017


We placed Lovely in a new home late this past spring with a herd who is fairly close to us with the agreement we receive a doeling in return. However, we brought her back as she became a little too aggressive in her new small herd. Lovely is a beautiful doe in all four categories with the exception of her feet which severely rolled over when she carried quads as a yearling. Now back at home the herd queens have certainly let her know who is boss.


2019 Show Wins
2 Year Old 2nd Freshener



SMDGA Show, Springfield, MO
(Judges: Jay Rudolph, TeCoa Seibert, Colt Churchill)

6th of 7 in Ring 1
2nd of 7 in Ring 2
1st of 7 in Ring 3



Quad State Classic Dairy Goat Show, Sioux Center, IA
(Judges: Jennifer Lawrence)
2nd of 3



Iowa State Fair, Des Moines, IA
(Judge: Timothy Flickenger)
5th of 14



Nebraska State Fair, Grand Island, NE
(Judges: Joe Pilotte & Karen Smith)

8th of 15 in Ring 1
15th of 15 in Ring 2



Flat Water Classic, Madison, NE
(Judges: Julie Matthys & Timothy Flickinger)

3rd of 3 in Ring 1
2nd of 3 in Ring 2



Cumulative Show Wins



2018 (Yearling Milker) – 2x 2nd, 1X 1st Udder of Class




Breeding/Kidding info


Lovely's Photos...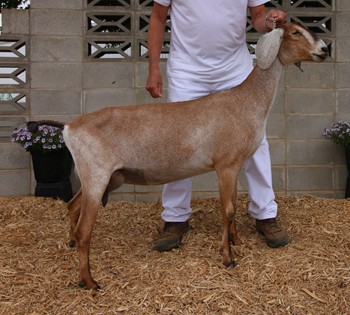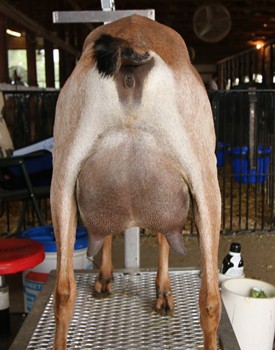 Yearling First Freshener...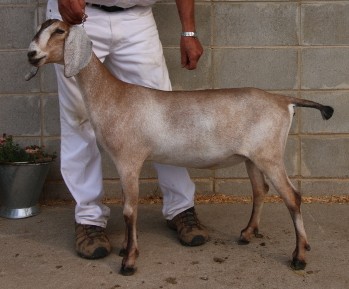 junior doe photo...



Dam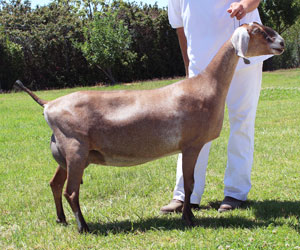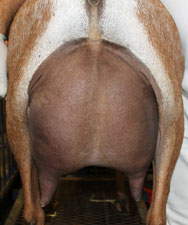 GCH Lakeshore Playboy Scandal 7*M
2-05 88(VVVV)


Sires Dam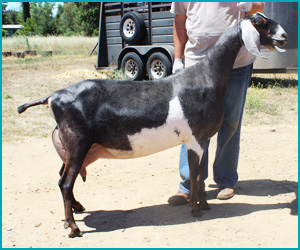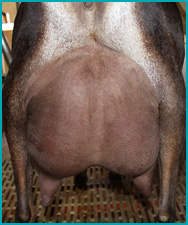 SGCH Mountain Muse Playboy's Vixen 2*M
3-02 91(EEVE)


Dams Dam




GCH Lakeshore EX Summer Sensation 6*M
2-03 88(VVVV)