Senior Doe



Lakeshore Isn't She Lovely
N1860279
(Click on Registration#)
1-04 +84(+VVV)


Sire: *B Mountain Muse Stat Vindicator
SS: SGCH ++*B Lakeshore Farms Star Status
SD: SGCH Mountain Muse Playboy's Vixen 2*M

Dam: GCH Lakeshore Playboy Scandal 7*M
DS: SGCH +*B J&R Spirits Dakota Playboy
DD: GCH Lakeshore EX Summer Sensation 6*M

DOB: March 12, 2017


I am really beginning to think Lovely has been jinxed. As a kid she injured her front leg and it took quite awhile to heal which has resulted in a slight turnout of her front foot. Now this past spring she carried a set of quads which was extremely hard on her feet causing her rear pasterns to turn over somewhat. Unfortunately, she will never recover 100% from this. I love the length of body, levelness of topline and the beautiful udder, both rear and fore that she is showing us as a yearling milker. Even with the issues of her pasterns I felt she did very well in the show ring.


2018 Show Wins
Yearling 1st Freshener



SMDGA Show, Springfield, MO
(Judges: Karin Smith & Joseph Larson)
5th of 5 in Ring 1
2nd of 5 in Ring 2 - 1st Udder of Class



Quad State Classic Dairy Goat Show, Sioux Center, IA
(Judges: Tom Cox)
2nd of 4



Iowa State Fair, Des Moines, IA
(Judge: Julie Mathys)
3rd of 8



Nebraska State Fair, Grand Island, NE
(Judge Jeff Kline)
8th of 10



Breeding/Kidding info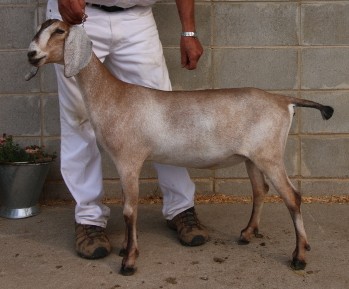 Lovely's junior doe photo...



Dam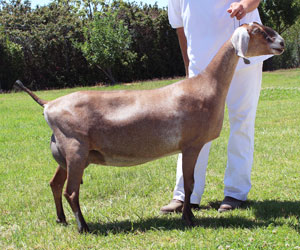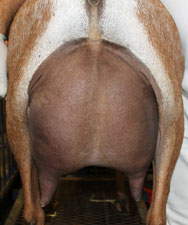 GCH Lakeshore Playboy Scandal 7*M
2-05 88(VVVV)


Sires Dam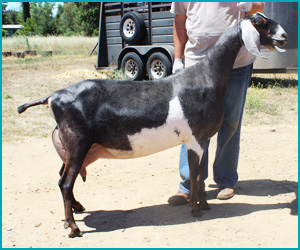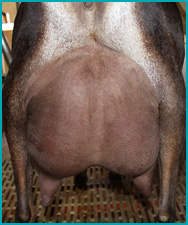 SGCH Mountain Muse Playboy's Vixen 2*M
3-02 91(EEVE)


Dams Dam




GCH Lakeshore EX Summer Sensation 6*M
2-03 88(VVVV)