Senior Doe



Lakeshore Simply Perfection
N1863368
(Click on Registration#)
1-03 V86(VVEV)
Sire: *B Lakeshore Captain America

(G6s Normal)


SS: *B Woest Hoeve Captain
SD: SG Lakeshore Dandy Adeline 2*M

Dam: SGCH Lakeshore DP Hot As Elle 2*M
DS: SGCH +*B J&R Spirits Dakota Playboy
DD: SG Lakeshore SH Hot Tropic *M

DOB: April 1, 2017


We were not disappointed in the way Perfection freshened and the fact that she is our highest Linear Appraisal scoring yearling milker. Her attitude from last year in the show ring has carried over but as we progressed through the show season she has somewhat mellowed out. We are very pleased with her general appearance and mammary system and canít wait to see her as a 2-year-old this next show season.


2018 Show Wins
Yearling 1st Freshener



SMDGA Show, Springfield, MO
(Judges: Karen Smith & Joseph Larson)
3rd of 5
3rd of 5



Quad State Classic Dairy Goat Show, Sioux Center, IA
(Judge: Jeremy Lesniak)
1st of 4



Iowa State Fair, Des Moines, IA
(Judge: Julie Mathys)
4th of 8



Nebraska State Fair, Grand Island, NE
(Judge: Jeff Kline)
2nd of 10



Flat Water Classic, Madison, NE
(Judges: Jay Rudolph & Joseph Larson)
1st of 4
4th of 4



Breeding/Kidding info



Perfection's junior doe photo...



Dam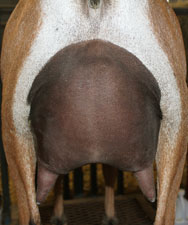 SGCH Lakeshore DP Hot As Elle 2*M
3-02 90(VEEE)


Sires Dam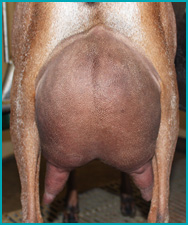 SG Lakeshore Dandy Adeline 2*M
2-04 87(VVVV)


Dams Dam




SG Lakeshore SH Hot Tropic *M
1-03 86(VVVV)