Senior Doe



Begley's Troubled Acres Skrambl
2018 ADGA Colorama Sale Doeling
N1949556
(Click on Registration #)
G6s Normal by Parentage


2 Yr Old 1st Freshener
Sire: Begley's Troubled Acres FZ Zeus
SS: SG +B Begley's Troubled Acres Frisco
SD: Begley's Troubled Acres J Zumba

Dam: SGCH Begley's Troubled Acre Skdlbut 3*M
5-02 E91 (EEEE)
DS: SGCH ++*B Lakeshore Farms Star Status
DD: SGCH Begley's Troubled Acre Dabble 2*M

DOB: May 09, 2018


Skrambl has a sweet disposition and definitely excels in general appearance. However, we had some issues with mastitis on one side which has affected the right side of her udder. It took us a little while to figure out what was going on. We finally caught on that anywhere from two to three minutes after supposedly being finished milking her she would let down another one to two pounds of milk which was left in her udder until the next milking. Once we figured that little trick out we were able to turn her around and keep her from developing more problems, but not able to reverse the difference in size of her halves. Hopefully, when she freshens next spring her udder will be even or close to being even. I believe she has the needed height of rear udder as well as a nice foreudder to be competitive next year if she comes into milk this coming spring pretty even. Keeping my fingers crossed on this one!


2020 Show Wins
2 Yr. Old 1st Freshener



Quad State Classic, Sioux Center, IA
(Judge: Ashley Scheel)
2nd of 8



NDGA Show, Weeping Water, NE
(Judges: Mark Baden, Dan Greene, Jennifer Lawrence)
5th of 9 in Ring 1
5th of 9 in Ring 2
5th of 9 in Ring 3




Cumulative Show Wins



2019 (Dry Yearling) – 4x 1st, 3x Res. Jr. Champion, 1x Jr. Champion & Best Jr. Doe In Show




Breeding/Kidding info


Skrambl's Photos...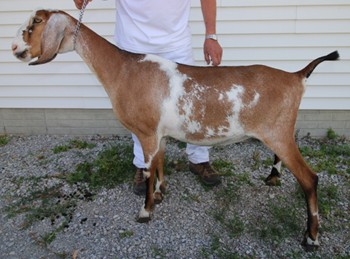 Junior Doe


Dam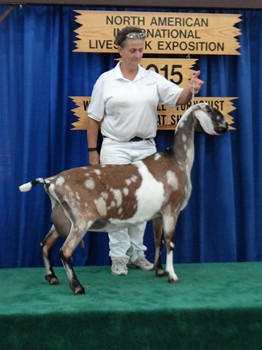 SGCH Begley's Troubled Acre Skdlbut 3*M
5-02 E91 (EEEE)


(photo courtesy of Begley's Troubled Acre)





Maternal Sister to Skrambl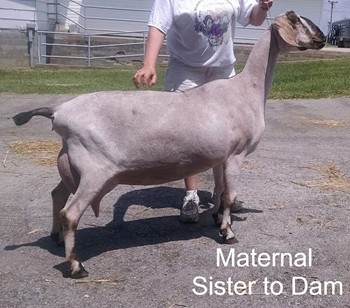 Begley's Troubled Acre Secrets
LA: 3-0 E90 (EEVE)


(photo courtesy of Begley's Troubled Acre)