Herdsire



J&M Hideaway AB American Hero
ADGA 2018 Spotlight Sale Buck
N1942445
(Click on Registration#)
G6s Normal by testing
DNA typed
Qualified for ADGA Sire Development Program
LA: 1-02 V88 (VEE)
Sire: CH *B Lakeshore Ace Bellagio
SS: SG ++*B Kastdemur's At Your Service
SD: SGCH Lakeshore Perfect Bellissima 7*M

Dam: SGCH J&M Hideaway Farm Patriot 2*M
DS: SGCH +*B Royal Blue Nevada Joe
DD: SG Frog Flat Rosemary *M



DOB: April 7, 2018
This past spring was a very challenging one as well as a heartbreaking one. I so looked forward to the freshening of five of Heroís first daughters this past spring. He certainly did not disappoint us. We already knew he was a buck that was strong in passing on beautiful general appearance and were eagerly awaiting those first udders. All five of his daughters freshened with show quality udders! The kicker was as they got into their lactations they started decreasing on one side of their udder testing positive for mastitis. I treated them, got them cleared up only to have issues again. At that point we took samples in to find out what type of mastitis we were dealing with which was staph aureus. There is one very special daughter that we kept who excels in general appearance with a beautiful mammary system. We dried her up and are treating her through her dry period with the hopes that she will come back next spring even and clean. The height and width of rear udder along with teat placement, proper delineation and a smooth foreudder make her well worth the wait.

We have never experienced anything like this before. We are extremely careful in our milking process as well as keeping bedding refreshed twice a day. We had an influx of sparrows this spring so we are wondering if they brought something in so we are in the process of trying to remove them.

NOTE OF INTEREST: It took me just a little bit after the 2021 ADGA National Show to realize how closely related Hero is to the ADGA Reserve National Champion, J&M Hideaway AB Desert Mirage. They share the same sire as well as dam's sire, Royal Blue Nevada Joe.


2020 Show Wins
Senior Buck
2 Yrs. Old



SMDGA Dairy Goat Show, Neosho, MO
(Judges: Greg Murphy, Will Keech, Joseph Larson )
1st of 6 in Ring 1
1st of 5 in Ring 2 - Reserve Senior Champion
3rd of 5 in Ring 3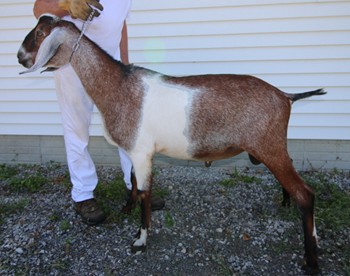 2019 photo of Hero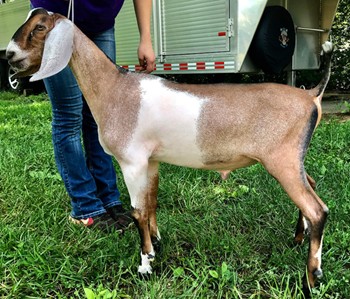 2018 photo of Hero...



Dam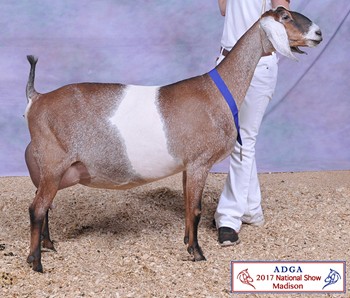 SGCH J & M Hideaway Farm Patriot 2*M
EX91 VEEE
1st Place/1st Udder 2 yr. old 2016 ADGA Nationals
1st Place/1st Udder 3 yr. old & Res GCH/Res Best Udder 2017 ADGA Nationals
2nd Place/2nd Udder 4 yr. old 2018 ADGA Nationals
Elite Doe List 2017 & 2018


Sire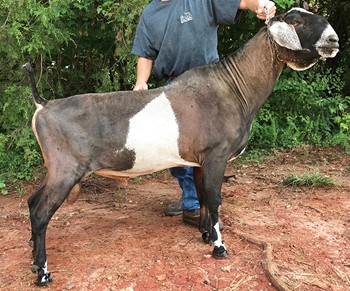 CH *B Lakeshore Ace Bellagio
EX90 VEE
1st place Jr. Get of Sire 2017 ADGA Nationals
Sire of:
J&M Hideaway AB Bella Imperia, Jr. GCH 2017 ADGA Nationals
J&M Hideaway AB Desert Mirage, 1st place 2 yr. old 2018 ADGA Nationals


Dam's Paternal Sister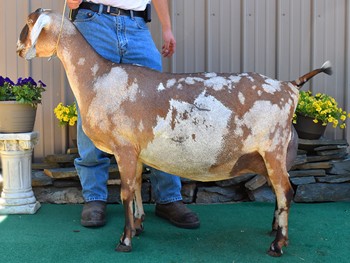 SGCH J & M Hideaway Farm Desert Rose 2*M
EX92 EEEE
2nd place 5 & 6 year old 1st udder 2018 ADGA Nationals


Dam's Paternal Sister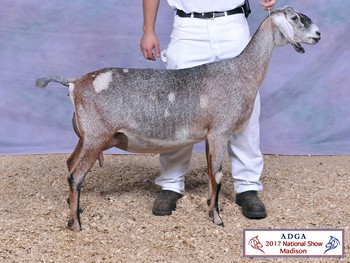 SGCH J & M Hideaway Arctic Rose 2*M
EX90 VEEE
1st place 2 yr. old 2017 ADGA Nationals
1st place 3 yr. old 2018 ADGA Nationals


Damís Paternal Sister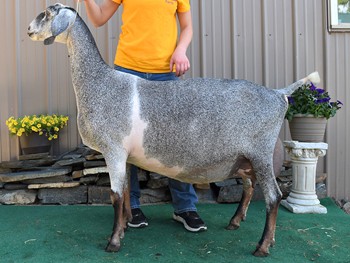 SG J & M Hideaway Farm Isabelle *M
EX92 EEEE
1st place 5 & 6 yr. old 2018 ADGA Nationals
Dam of J&M Hideaway AB Bella Imperia, Jr. GCH 2017 ADGA Nationals


Sires Dam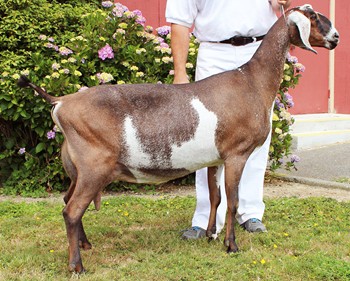 SGCH Lakeshore Perfect Bellissima 7*M
EX91 VEEE
2015 ADGA Natl. Res. Champion & Res. Best Udder
2015 ADGA Natls Total Performer