Herdsire



J&M Hideaway AB American Hero
ADGA 2018 Spotlight Sale Buck
N1942445
(Click on Registration#)
G6s Normal by testing
DNA typed
Qualified for ADGA Sire Development Program
LA: 1-02 V88 (VEE)
Sire: CH *B Lakeshore Ace Bellagio
SS: SG ++*B Kastdemur's At Your Service
SD: SGCH Lakeshore Perfect Bellissima 7*M

Dam: SGCH J&M Hideaway Farm Patriot 2*M
DS: SGCH +*B Royal Blue Nevada Joe
DD: SG Frog Flat Rosemary *M



DOB: April 7, 2018
At this time we have not freshened any of his daughters yet but will do so the spring of 2021. In his daughters we are seeing strong feet and legs, beautiful top lines in addition to flat level rumps and adding more width in the chest floor. What I am seeing that is a little concerning in some of his daughters who are now dry yearlings is a little more heaviness in their shoulders which I hope they will milk off. This was not evident as kids, however. The escutcheon area on his doelings is very pretty with nice height and width. Hero will be taking a little bit of a vacation until I see how his daughters freshen out and I doubt he will be too happy about that.


2020 Show Wins
Senior Buck
2 Yrs. Old



SMDGA Dairy Goat Show, Neosho, MO
(Judges: Greg Murphy, Will Keech, Joseph Larson )
1st of 6 in Ring 1
1st of 5 in Ring 2 - Reserve Senior Champion
3rd of 5 in Ring 3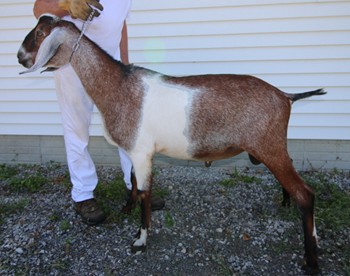 2019 photo of Hero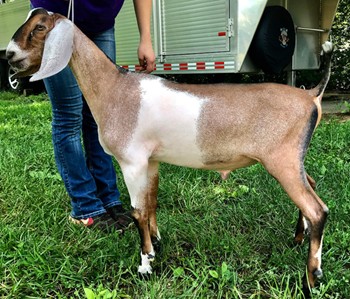 2018 photo of Hero...



Dam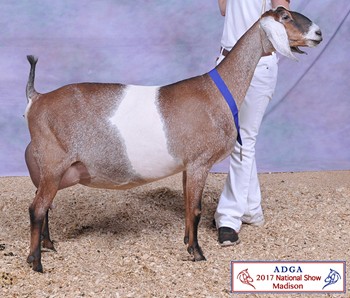 SGCH J & M Hideaway Farm Patriot 2*M
EX91 VEEE
1st Place/1st Udder 2 yr. old 2016 ADGA Nationals
1st Place/1st Udder 3 yr. old & Res GCH/Res Best Udder 2017 ADGA Nationals
2nd Place/2nd Udder 4 yr. old 2018 ADGA Nationals
Elite Doe List 2017 & 2018


Sire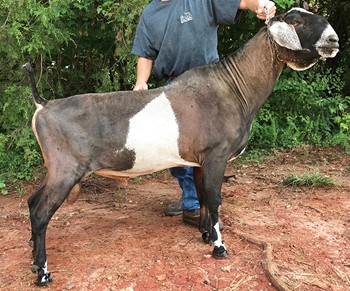 CH *B Lakeshore Ace Bellagio
EX90 VEE
1st place Jr. Get of Sire 2017 ADGA Nationals
Sire of:
J&M Hideaway AB Bella Imperia, Jr. GCH 2017 ADGA Nationals
J&M Hideaway AB Desert Mirage, 1st place 2 yr. old 2018 ADGA Nationals


Dam's Paternal Sister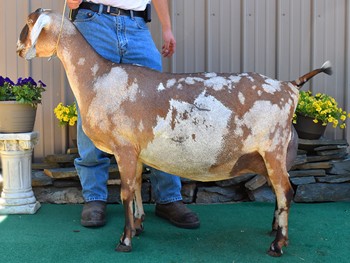 SGCH J & M Hideaway Farm Desert Rose 2*M
EX92 EEEE
2nd place 5 & 6 year old 1st udder 2018 ADGA Nationals


Dam's Paternal Sister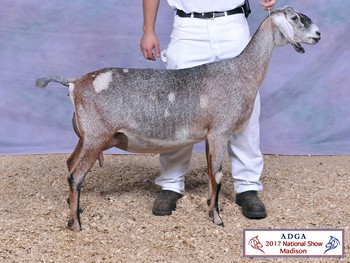 SGCH J & M Hideaway Arctic Rose 2*M
EX90 VEEE
1st place 2 yr. old 2017 ADGA Nationals
1st place 3 yr. old 2018 ADGA Nationals


Damís Paternal Sister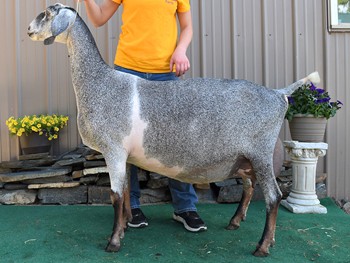 SG J & M Hideaway Farm Isabelle *M
EX92 EEEE
1st place 5 & 6 yr. old 2018 ADGA Nationals
Dam of J&M Hideaway AB Bella Imperia, Jr. GCH 2017 ADGA Nationals


Sires Dam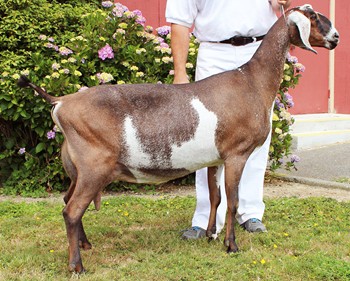 SGCH Lakeshore Perfect Bellissima 7*M
EX91 VEEE
2015 ADGA Natl. Res. Champion & Res. Best Udder
2015 ADGA Natls Total Performer