Nubilop Acres Bluebelle
N2104380
(Click on Registration #)
G6s Normal by Parentage
Sire: Lakeshore Executive Order
SS: *B Mountain Muse Stat Vindicator
SD: Lakeshore C The Girl Next Door

Dam: Nubilop Acres Ivy's Chantel
DS: Tide Land Lightning Bug
DD: Risin' Creek Split Ivy *M

DOB: March 13, 2020
Bluebelle freshened on July 4th so she did not make it to any early shows as a yearling milker. At this point I would like to see a little heavier bone pattern and a little more conditioning on her. She simply has milked all of her extra weight off so I am hoping that she fills out during her dry period. She has a very acceptable rear udder but I would appreciate a little smoother foreudder extension. Hopefully that will happen as a second freshener.


2021 Show Wins
Yearling 1st Freshener



Nebraska Dairy Goat Association, Syracuse, NE
(Judges: Karen Smith, Grace Toy, Dan Laney)
2nd of 7 in Ring 1
6th of 7 in Ring 2
2nd of 7 in Ring 3



Missouri State Fair, Sedalia, MO
(Judges: Todd Biddle )
2nd of 4



Nebraska State Fair, Grand Island, NE
(Judges: Julie Matthys & Cameron Jodlowski )
4th of 6 in Ring 1
1st of 6, 1st Udder of Class in Ring 2



Cumulative Show Wins



2020 (Junior Doe) – 3x 1st, 3x Junior Champion


Breeding/Kidding info



Bluebelle's Photos...



Junior Doe


Dam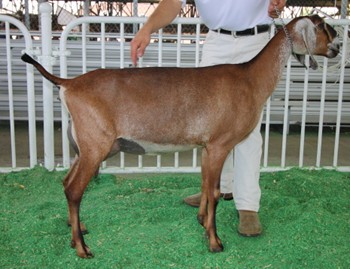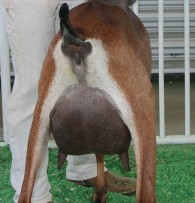 Nubilop Acres Ivy's Chantel

Dam's Dam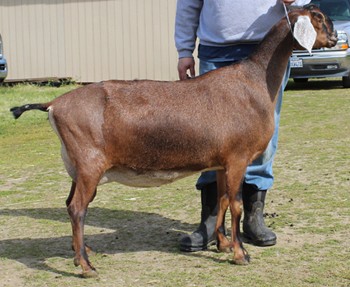 Risin' Creek Split Ivy *M

Sire



Lakeshore Executive Order

Sire's Dam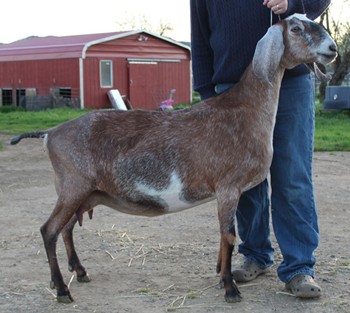 Lakeshore C The Girl Next Door
2-04 87(V+EV)