Senior Doe



J&M Hideaway PR Silent Mary
ADGA 2018 Spotlight Sale Doe
G6s Normal by testing
DNA typed
N1942440
(Click on Registration #)



2 Yr Old 1st Freshener
Sire: CH *B J&M Hideaway Farm Paul Revere
SS: SGCH +*B Royal Blue Nevada Joe
SD: SG Frog Flat Rosemary *M

Dam: GCH J&M Hideaway Farm Queen Anne*M
DS: *B Goddard Farm El Ponderosa
DD: SG J&M Hideaway Farm Violet

DOB: April 1, 2018


Mary is maturing into a powerful doe already showing us that tremendous depth of body that starts at her chest floor and carries on through her barrel. She freshened with a very nice foreudder extension with excellent width in her rear udder. There are a couple of things I would change and that is to give her a little more height in her rear attachment as well as giving her a little more length in body. She milks extremely well averaging around 9-10# per day. I am anxious to see what she does as a 2nd freshener next year.


2020 Show Wins
2 Yr. Old 1st Freshener



Quad State Classic, Sioux Center, IA
(Judges: Joseph Larson & Cameron Jodlowski )
2nd of 8 in Ring 1
2nd of 8 in Ring 2



NDGA Show, Weeping Water, NE
(Judges: Mark Baden, Dan Greene, Jennifer Lawrence)
3rd of 9 in Ring 1
3rd of 9 in Ring 2
2nd of 9 in Ring 3




Cumulative Show Wins



2019 (dry yearling) – 2nd of 16 (Nubian Specialty), 2x 3rd




Breeding/Kidding info


Silent Mary's Photos...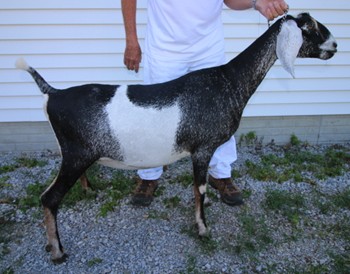 Dry Yearling...



Dam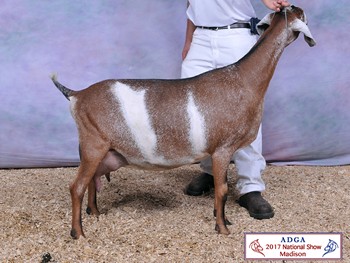 GCH J&M Hideaway Farm Queen Anne *M
EX92 EEEE
3rd place 4 yr. old 2017 ADGA Nationals


Sire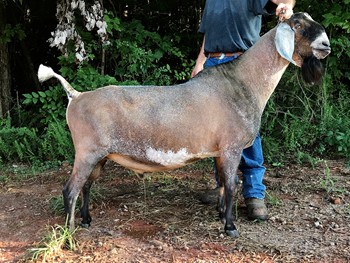 CH *B J & M Hideaway Farm PaulRevere
EX 92 EEE
Sire of 2nd place Jr. kid at 2018 ADGA Nationals

Sire's Full Sister



SGCH J & M Hideaway Farm Patriot 2*M
EX 91 VEEE
1st place 2 yr. old 2016 ADGA Nationals
1st place 3 yr. old & Res. GCH with Res. Best Udder 2017 ADGA Nationals
2nd place 4 yr. old 2018 ADGA Nationals
Elite Doe 2017 & 2018

Sire's Paternal Sister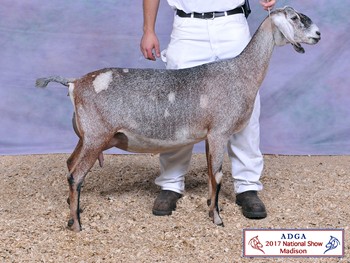 SGCH J & M Hideaway Arctic Rose 2*M
EX90 VEEE
1st place 2 yr. old 2017 ADGA Nationals
1st place 3 yr. old 2018 ADGA Nationals

Sire's Paternal Sister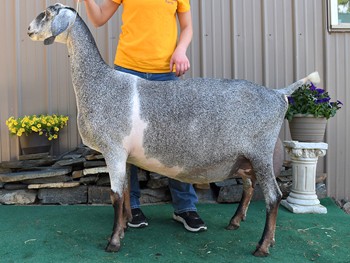 SG J & M Hideaway Farm Isabelle *M
EX92 EEEE
1st place 5 & 6 yr. old 2018 ADGA Nationals
Dam of J&M Hideaway AB Bella Imperia, Jr. GCH 2017 ADGA Nationals

Sire's Paternal Sister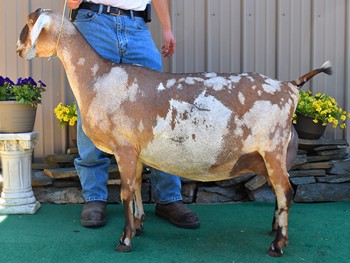 SGCH J & M Hideaway Farm Desert Rose 2*M
EX92 EEEE
2nd place 5 & 6 yr. old with 1st Udder 2018 ADGA Nationals